On a warm and sunny July day, two groups of Club members enjoyed tours of the Commonwealth War Graves Commission site at Botley in west Oxford. The tours were led by CWGC volunteer, Dick Richards, who had previously given talks to the Club on the Unknown Warrior in Westminster Abbey and the work of the CWGC.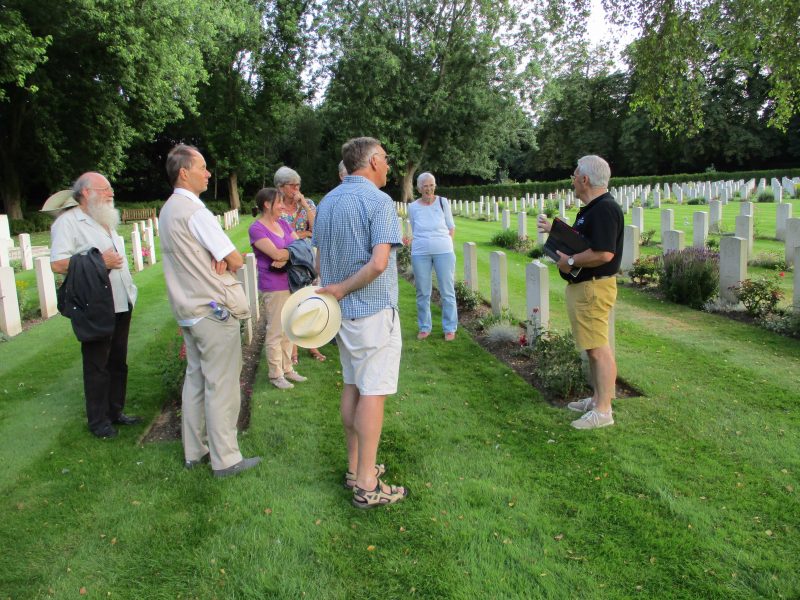 Dick started the tour with a brief history of the cemetery and its key features – the Stone of Remembrance, the Cross of Sacrifice, and a domed shelter containing a cabinet with a register of the burials and a copy of the cemetery plan. The tour group then moved around the cemetery, with Dick talking about a selection of the burials he'd researched and pointing out interesting graves such as those of the only two military women buried there (a nurse from the First World War and a WAAF from the Second World War) and those of the oldest and youngest men buried there.
The Botley War Graves Cemetery is the largest CWGC site in Oxfordshire with some 740 graves. It contains 156 Commonwealth burials from the First World War, during which the 3rd Southern General Hospital was housed in the Examination Schools and a number of other buildings in Oxford. In the Second World War, the cemetery was designated a Royal Air Force regional cemetery and was used by RAF stations in Berkshire and neighbouring counties. There are 516 Commonwealth burials (one of them unidentified) from this conflict. In addition to the Commonwealth war graves, there are some 70 graves of other nationalities (German, Italian, Belgian, Czech, Dutch, Polish), including that of the only Greek soldier buried in the UK. The cemetery became a CWGC cemetery in 1951; the yew hedge around the site dates from this time. The CWGC sits within the municipal cemetery, one of the four in the city of Oxford.
Information on the CWGC website including the Cemetery Plan