This series of short accounts prepared by Christine Wootton was published online from April to December 2020 to mark the 75th anniversary of VE Day on 8/9 May 2020. Some of the accounts are about the wartime experiences of individual Radley residents (often in ways unrelated to Radley) and some about life on the home front in the village.
The accounts make extensive use of recordings in the Club's oral history collection, supplemented with material acquired by Christine during research on other topics.
A list of the men and women known to have served in the war in some capacity and who either lived in Radley or have a connection to the village is available in the Club archives (ref: D.384).
You can download a PDF (2.3MB) of a compendium of the accounts grouped in the following eight categories:
Military service
Life in Radley
Radley Home Guard
Life in Oxford
Life in London
Life elsewhere in England
Life in Germany
Escape from Germany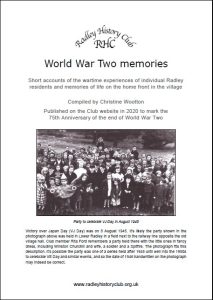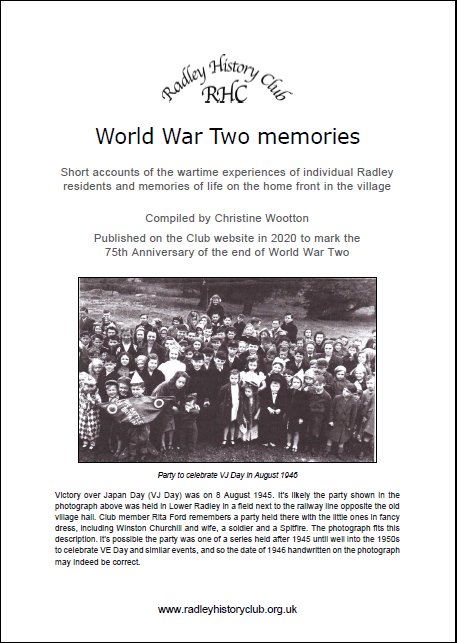 Or you can follow the links to the individual accounts given below along with a short summary.
We apologise for any mistakes that may have arisen in the creation of these accounts. Please let us know of any corrections you feel should be made.
Military service
Bill Small, a private in the 4th Battalion Oxfordshire and Buckinghamshire Light Infantry (a Territorial unit), served in France as part of the British Expeditionary Force. He was captured by the Germans in May 1940 during the retreat to Dunkirk and spent the rest of the war as a POW. Read Bill's story
Charles Lockett joined the RAF in 1931, becoming a squadron leader in 1938. In September 1939, he led No. 226 (Bomber) Squadron to France. Charles was shot down and captured in May 1940 during a raid on Reims. He was a prisoner at several camps, ending the war at Colditz. Christine's research about Charles started when the Club was given a letter written by him to his wife from Colditz. Read Charles' story
The timeline of the wartime career of Peter Hairs as an RAF pilot and then instructor takes you on a tour of airfields all over Great Britain. It also illustrates the myriad of RAF training establishments and their acronyms. Read about Peter's RAF career
Ted Holst's sailor's tale comes from the time he was serving on HMS Audacity and appeared as one of a series of short articles about people's memories of the war published in the Souvenir Programme produced for celebrations in Radley of the 50th anniversary of VE Day on 8 May 1995. Read the articles
As a soldier in the British Army, John Nicholson had a fascinating war career from the Normandy beaches right through to Germany and the end of the war as an infantry signaller. His story takes us from fierce fighting in the Falaise Gap, the Netherlands, the Battle of the Bulge to the northern coast of Germany. Read John's wartime tales
'A quiet war' is how David Buckle described his time in the Royal Marines from 1943 to 1945. He served first in a combined operations group in charge of landing craft and then as part of a special brigade that was sent to northern Germany at the end of the war. Read about David's service as a Royal Marine
Life in Radley
When war was declared Beryl Buckle (née Stimpson) from Lower Radley was a pupil at Radley Primary School. Her account has lots of detail about her family (including her father's tragic death working on the railway), evacuees and rationing, life in Radley in general, her work in a local bakery and her wedding to David in 1944. Read Beryl's account
David Buckle's account of his life in the early years of the war includes his time in Ramsgate where he witnessed the soldiers returning from Dunkirk and life in Radley living at Bigwood Camp, and working on various local farms before he joined the Royal Marines in 1943. Read David's account of his life in the early years of the war
Nancy Homewood grew up on Peach Croft Farm in Radley where her father was the tenant. Read Nancy's memories
David Shaw was a young boy living with his parents in Lower Radley near the railway line during the war. His varied memories include a plane crash-landing in a nearby field, bombers flying overhead en route to Germany, Italian prisoners of war, and some of the interesting people who lived in the caravans by their house. Read David's memories
Brian Talboys was nine in 1939 and spent the war years living in Radley. His memories cover what life was like in the village, evacuees in Radley, soldiers travelling back from Dunkirk, the Home Guard and Upper Thames Patrol, the armed forces stationed nearby, and the changes after the war. Read Brian's story
Gladys Williams used Radley Station to travel back with WRAF friends from leave in London to RAF Abingdon. Her story was told in a series of short articles about people's memories of the war published in the Souvenir Programme produced for celebrations in Radley of the 50th anniversary of VE Day on 8 May 1995. Read the articles
Radley played its part in taking in evacuees, among them children from a London primary school and several schools at various times at Radley College. Many of the evacuees based in the village lived at Bigwood Camp in Radley Large Wood. Read about evacuees in Radley
During the war staff and pupils of Radley CE Primary School held gas mask and air raid practices, and took part in fund-raising for the war effort. Obtaining fuel to heat the Victorian classrooms during the winter was a continuing problem. Read about Radley Primary School in wartime
Radley Women's Institute in wartime While meetings continued as normally as possible, members of Radley WI joined in national campaigns to make jam and to grow onions and other crops. Much time was spent on fund-raising, supporting prisoners-of war and putting on social events for members of the armed forces stationed locally. Read about the activities of Radley WI during WW2
The Home Guard in Radley
Tony Money served as the Radley College archivist for over 40 years. As archivist, his interests included the World War Two defence line known as the GHQ Line, which ran south of Abingdon, and the duties of Radley pupils and staff as part of the Berkshire Home Guard and Upper Thames Patrol. Read about the GHQ Line and Radley College's contribution to the Home Guard
You can learn more about the Home Guard unit of pupils and staff from Radley College and its evacuee visitors, Eastbourne College, from one of the series of short articles about people's memories of the war published in the Souvenir Programme produced for celebrations in Radley of the 50th anniversary of VE Day on 8 May 1995. Read the articles
Life in Oxford
Margaret Higgs and Iris Lancaster were brought up in Oxford where their fathers were employed at Oxford colleges. They both remembered Neville Chamberlain's famous radio broadcast on the day war was declared. Read the accounts by Margaret and Iris
Denis and Jenny Standen were both brought up in Oxford. During air raids Denis remembers sheltering in the basement of Corpus Christi College where his father was a 'scout', watching one of the unofficial wartime boat races between Oxford and Cambridge, and cycling out to Radley where he saw soldiers waiting for D-Day. Jenny, who lived in Headington, remembers mail being dropped from a plane for the American-occupied Churchill Hospital. Read Denis and Jenny's wartime memories of Oxford
Life in London
Joy Alexander, a WREN in London describes a close encounter with a V1 flying bomb. Her story was told in a series of short articles about people's memories of the war published in the Souvenir Programme produced for celebrations in Radley of the 50th anniversary of VE Day on 8 May 1995. Read the articles
Brian and Valerie Mott both came from the London area – Windsor/Egham and Balham in south London respectively. Brian remembers V1 flying bombs and the family's Morrison shelter and his mother working as a postman. Valerie spent the war with family in south Wales while her father was away serving in the RAF. Read Brian and Valerie's memories of life in the war
Doug Rawlinson was a school boy in London when war broke out. He was evacuated twice, both unhappy experiences. He served in the Navy from 1944 to 1947. After training at Skegness, he sailed on two ships – one to Australia and one to Japan. While in Japan he visited Miyajima and Hiroshima. Read Doug's story
During the war Eric and Joy Riley were children living in north London in Tottenham and Wood Green respectively. Both remember the bombing and both were nearly killed, in separate incidents, by a V2 rocket. They also remember rationing, particularly sweet rationing! Read about Eric and Joy's childhood in wartime suburban London
When war broke out Reg White was 17 and living in London. His account provides an insight into what it was like working as an electrical engineer in a factory making instruments for the Navy and then his experiences in 1945 in the Navy on a fleet repair ship supporting the British Pacific Fleet. Read Reg's story
Life elsewhere in England
Jean Deller tells about her childhood in Essex with visits to relatives in Radley in one of the series of short articles about people's memories of the war published in the Souvenir Programme produced for celebrations in Radley of the 50th anniversary of VE Day on 8 May 1995. Read the articles,
Dot Hewlett was in Southport on the Lancashire coast near Liverpool where her father, a civil servant, was a member of the Auxiliary Fire Service. She remembers air raids and camping with the Guides. Read Dot's story
Ida Holst reminiscences about life on the home front (keeping pigs, eating out, wartime clothing) in one of the series of short articles about people's memories of the war published in the Souvenir Programme produced for celebrations in Radley of the 50th anniversary of VE Day on 8 May 1995. Read the articles
Christine Wootton herself was born just before the war started and has memories of events from that time including visits from her uncle who was in the Royal Canadian Air Force, food parcels from her grandmother in Canada, her father building an air raid shelter in the garden, and not being allowed to stay up past her bedtime on VE Day! Read Christine's wartime story
Life in Germany
Lorre Stebbings was born in Germany and lived there throughout the war. Her family's home was destroyed by bombing and they frequently had to shelter during raids. When the war ended she and her family were often hungry. Lorre married an English soldier after the war and came with him to England. Read Lorre's story
Escape from Germany
Many Radley residents have a story to tell of their family's experiences during World War Two. One is Amatsia Kashti. One set of grandparents were killed by the Nazis, but the other set escaped from Germany with their family including Amatsia's mother, first to Paris and then to Switzerland. Read about the wartime experiences of Amatsia Kashti's relatives