The village of Radley in Oxfordshire is on the River Thames between Abingdon and Oxford. Formerly in Berkshire, Radley has a history dating back for thousands of years to Neolithic times. From late Saxon times until 1538 the village was part of Abingdon Abbey's extensive landholdings. The current church was founded by the Abbey around 1300 and the timber-framed vicarage dates from the 13th or 14th century. Two of the fine thatched cottages in Lower Radley (once the main part of the village) date from the 16th century. Until recently the village was primarily agricultural, with most of the population working the land. Today most of the farm buildings have been put to other uses and very few residents have connections with farming. Radley today is perhaps best known for its station on the Oxford–Didcot railway line and for the public school, Radley College.
Radley History Club seeks to:
research and record local history
offer an interesting series of monthly talks about the history of the local area
arrange visits to local sites of historical interest
Radley Heritage Walk
Discover the history of Radley by comparing old photos with what you see now. Pick up a free Heritage Walk leaflet from various sites around the village, including the Bowyer Arms, where the walk starts. The leaflet features 24 points of interest and includes a map.
The walk is in two halves, both starting at the pub. One half includes St James the Great church and the ancient 'Radley Oak' in the grounds of Radley College. The other explores some of the old farmhouses and cottages of Lower Radley, and the River Thames.
Meetings
Meeting with a speaker are held at 7.30 pm on the second Monday of the month (apart from August) at Radley Church. See the Events Calendar for details of forthcoming meetings. More about the Club's meetings and how to join the Club
Non-members are welcome at our speaker meetings. There's no charge but a suggested donation of £2.50 would be much appreciated.
Publications
The findings of research projects carried out by the Club over the last 20 years are detailed in various books and booklets. Copies of the Club's publications are available to buy online and from Radley Village Shop.
Postcards produced by the Club featuring scenes around Radley are also available to buy from the Village Shop.
Archives
The Club has an ever-expanding collection of archives – photographs, maps, documents, books, audiovisual and transcriptions of wills.
Oral history
Included in the Club's archives is its extensive and growing library of audio recordings of interviews with people from Radley or connected to the village in some way. The Club's latest oral history project, Radley during Covid, seeks to record people's memories of this major event in our lives. Learn more about this new project and the Club's library of recordings.
World War Two Memories
This collection of short accounts – some about the experiences of individual Radley residents and some about life on the home front – draws heavily but not exclusively on the Club's library of oral history recordings. Learn more and read the accounts
---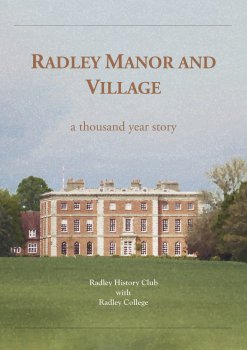 RADLEY MANOR AND VILLAGE
a thousand year story
Published November 2019
About the book and how to buy a copy
"it is engrossingly written and should hold the attention of historians and students of the community"
From a British Association of Local History review
---