New project: Radley during Covid
Our latest oral history project aims to capture the memories of Radley people about the effect of Covid from spring 2020 to December 2021. We want to record these memories for the sake of future generations while they're still fresh in people's minds.
Because of Covid, we've not been able to make new recordings for some time, so we're very excited to begin a new series. The Oral History Group has drawn up a framework of questions to ask and will be interviewing people who either live or work in Radley, or are involved with the Radley community about their experiences during Covid.
We've identified various categories of people to interview, ranging from those involved in key village institutions (church, shop, etc) and community organisations, those who run a business, were working from home, retired people, professionals such as doctors and nurses, to those looking after children or caring for someone. The information given by interviewees, who may well fit into more than one of our categories, will be used to produce a picture of the impact of Covid on the village as a whole.
Previous recordings
Over the years the Club has built up a library of oral history recordings in two main collections:
Recordings have also been made as part of the research for a Club publication:
All the recordings are listed by subject category in the archive catalogue.
How to obtain a copy of a recording
Links to audio files of the interviews in the various series are generally available on request from the Club archivist – there's no charge but you may be invited to make a donation to the Club.
When contacting the archivist, please quote the name of the person interviewed and the archive number of the recording you're interested in.
Please note that recordings are provided solely for non-commercial research, study and private enjoyment.
World War Two memories
In 2020, a series of short accounts of Radley experiences in the Second World War prepared by Club member and past chairman, Christine Wootton, was published online. While the accounts make extensive use of recordings in the Club's oral history collection, this was a wider project using material acquired by Christine during research on other topics.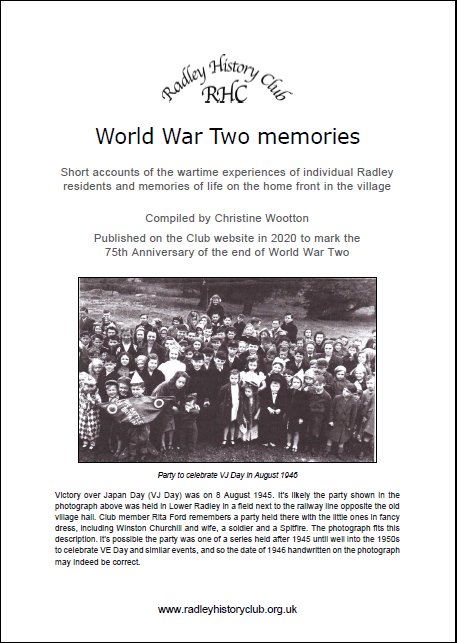 Learn more and read the accounts
A list of the men and women known to have served in the war in some capacity and who either lived in Radley or have a connection to the village is available in the Club archives (ref: D.384).