Reginald S. White, commonly known as Reg, was born in 1922 in the St Pancras district of London. He left school in 1936 at the age of 14 – the normal leaving age at that time. On the 1939 Register of civilians in England and Wales taken on 29 September 1939, Reg appears with his father, a hairdresser, born in 1883 and his mother Alice born in 1886. Also on the register are Reg's sister Doris and brother Albert, both of whom were hairdressing assistants. Reg was described as an electrician's mate. The family was living at 78 Weedington Road, St Pancras.
To begin with Reg had some short-term jobs, which were mainly in engineering and this made him decide that he would like to become an electrical engineer. His father had a hairdressing business but, unlike his siblings, he wasn't interested in that occupation. Eventually, at the age of 16 Reg began full-time work with St Pancras Borough Council as an improver in the electrical department. Here he refurbished domestic appliances for the local council. As part of the job it was mandatory to do two nights a week at night school. Reg realised that he hadn't paid as much attention as he should have done at school so he decided to go to night school for four nights a week studying maths, English, technical drawing and practical work. He continued at night school until the war started. For some reason the Council decided to shut down the electrical department and he was out of a job, so he started working as an 'on call' electrician repairing electrical equipment used by a shoe repair chain. This job didn't last long as being on call interfered with his love of cycling and camping. It was, however, about the time that World War Two started and from 1939 when he was aged 17 the Government directed his life for several years.
Reg received a directive from the Ministry of Labour to start work at Electroflo Meters at Park Royal in London. He was in the maintenance section of the factory, which made instrumentation equipment for the military and occupied a five-storey building. As his evening classes had stopped he started a correspondence course. It was also necessary for Reg to join either the auxiliary fire service (AFS) or the Local Defence Volunteers (LDV); he opted to join the former. When the war started, German planes came in very low indeed and people would dive into underground shelters such as underground stations. Reg tried it for one night. He didn't find it a very hygienic or clean place and so decided to stay above ground during an air raid, which he found to be quite an experience. A kind friend then offered to take him to his house after work where he could stay overnight. The two of them usually played snooker during an air raid and managed to survive.
After the retreat from Dunkirk in 1940, there was a rapid change in working life at the factory. Reg could now get overtime pay if he worked weekends. The entire workforce decided they would work on when air raids started, as the country was desperate for armaments. There was no pressure to do this but they all volunteered, as they wanted to keep the factory working. There would be a volunteer spotter on the roof to spot bombs falling nearby and Reg felt that he should take his turn in doing this. Their building was the tallest in the Park Royal industrial area and being on the roof would be an experience he would never forget. He was very concerned for his own safety as there would be aeroplanes coming over, anti-aircraft guns going off and shrapnel flying around, and he was amongst it. There was a big red stop button, which he could use if necessary and this would stop the whole factory, shutting it down and the workers would then take shelter. This carried a great responsibility having to decide between work output or the safety of his fellow workers. He survived it and was pleased he had done it, but it changed his outlook on life.
Park Royal was about five miles cycling distance from his home and Reg was working five days a week, and sometimes 24 hours per day. He used to manage to go home on Saturday lunchtime before the raids started and freshen up, and then go back on Sunday before the raids started again.
Lack of sleep began to take its toll on him. One night he went down to an air raid shelter with a first aid kit and put his steel helmet and gas mask down beside him on a seat, then promptly went into a deep sleep. That was the night they were a target. The Germans dropped an incendiary bomb on Park Royal greyhound stadium. The wooden forms quickly caught fire. This was what the Germans wanted as it would light up their target area. The caretaker, volunteers and members of the ATS tried to put out the fire but it took all night. Everyone there thought Reg was helping as a volunteer, but it was a volunteer answering to the same name. At a roll call the next morning Reg was not there and his mates wondered what had happened to him. They discovered that they had the wrong Reg fighting the fire and then that the Reg they thought was there was in fact fast asleep. The managing director understood and was sympathetic as Reg was absolutely worn out.
In 1945 Reg was called up into the Navy and reported to Chatham Barracks. By that time the European war had finished and there was an immediate call-up to go to the Far East. The intake at the barracks was therefore enormous and it became overcrowded. One day to relieve the pressure Reg's group had to get out of Chatham Barracks and it was organised so that they would march out to the sound of a marine band. They went as far as a pub, where they sat down for some refreshments and then marched back into the Barracks again.
The sailors had minimal practical ship training. For shooting they had to load a revolver in darkness and shoot a silhouette from the hip. For fire fighting they had to go into a room about the size of a tank and, once inside, the door would close behind them. There was a tray on fire with some crude dirty oil in it; they would be given a quick lecture on what to do, given a hand pump and some water and if they came out of the door on the other side of the room they had passed. For swimming they had to be able to swim the length of the swimming baths. The competent swimmers were allowed in at the shallow end. Non-swimmers were pushed in at the deep end. Someone was there with a long pole in case they sank. Reg, who couldn't swim, jumped into the deep end and doggy paddled a few strokes before getting out at the side. He passed!
Following the fast-tracked naval training they were given a series of technical interviews. Civilian engineers tested them and because Reg had a good background in maintenance he passed easily and was given a nice set of tools.
Following some shore leave he went on board HMS Assistance, which had been built in the USA and had been ordered to the Far East to join the British Pacific Fleet as a fleet repair ship. The Fleet included battleships that had been kept in the UK to fight against Germany but were now proceeding to the Far East as Japan was still fighting. HMS Assistance was part of the Fleet Train – a floating supply unit composed of auxiliary vessels such as oilers, repair ships, ammunition ships, provision and store ships that accompanied a fighting fleet to sea on operations and enabled it to remain operational for long periods without having to return to port. It sailed for Australia soon after reaching the UK and arrived at Manus in Papua New Guinea, the assembly point for the British Pacific Fleet, on 10 September 1945 and remained there until 15 November before departing for Singapore where she was to operate as a harbour repair ship.
Reg was told that the ship would be an easy target for the Japanese and the crew was pleased when they arrived in New Guinea, A total of 400 ships would eventually make up the Fleet, so the maintenance men knew they would be very busy. The Japanese did attack but they were lucky and came to no harm.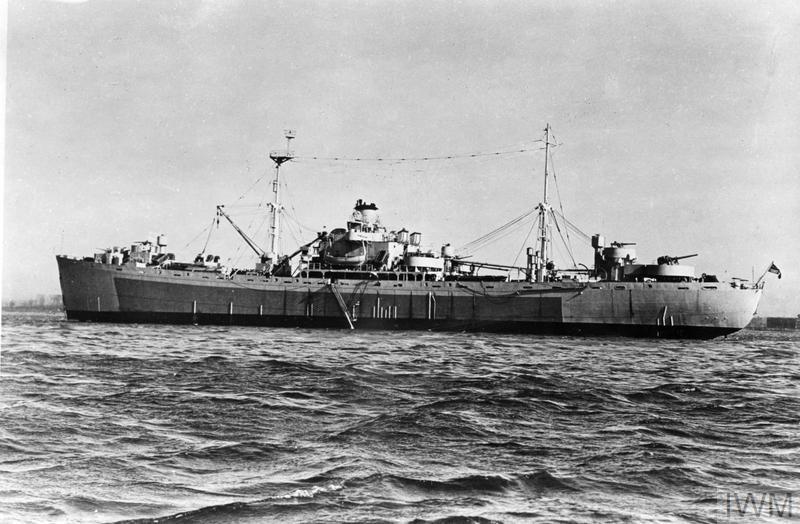 Reg was in New Guinea when the atomic bombs were dropped on Japan and the war with Japan ended. Now that the war had ended the Navy no longer needed technical people and so Reg and his colleagues went back home. He felt one good thing about the journey home was that men could be demobbed at any port the ship called at. HMS Assistance returned to the UK in late April/early May 1946, was decommissioned and then sailed back to the USA.
A memorable experience for Reg on the return voyage from New Guinea was when the ship's crew put on a Christmas Day party in Singapore for about 70 Dutch and Chinese children, many of whom were orphans and looked after by a charity. He was nearly in tears at seeing their little faces because they didn't know what to expect but the ship's crew had all the facilities to make a nice party for them. Santa Claus, a cinema, a shop and ice cream were available as it was an American ship. The children didn't know what ice cream was but soon found they liked it. Someone made a short film of the party which ended up in Imperial War Museum in London. Reg has a copy of it.
Reg was keen to get home as he was married by this time. Coming back to the UK, where so much damage had been done by German bombs, meant a new post war life for him and his wife. Reg had married when he was on leave from Chatham just before he went to the Far East. His wife, Olive, worked at the same place as him before the war and he often chatted to her when they met, usually in the stores' office. One day she stopped at his workbench and so he sat on the bench to talk to her. What he had forgotten was that there was a very hot soldering iron on the bench and he sat on it. She laughed and he wasn't very happy about it all. When he had cooled down he went to apologise to her for what he had said and they ended up making a date to meet each other. They eventually married earlier than they intended as he was being posted abroad.
In 1946 Reg was demobbed with a full set of tools, something which was quite usual. He was still under the direction of the Ministry of Works and was sent to maintain a defunct American air base at Cheddington in Buckinghamshire. He said it was a plum job as they had a completely workable aerodrome to themselves. Unfortunately, it meant a lot of travelling from Leighton Buzzard and so he went back to the company he worked for before the war. He eventually became their chief electrical engineer.
Reg fully retired in 1987 and moved to Radley to be near his daughter and grandchildren. He became a well-known person in Radley as a result of the most interesting cartoons he contributed to Radley News and Radley History Club's book, Radley People and the Railway. Reg died aged 98 in 2020.
Interviewed by Tony Gillman on 31 January 2017